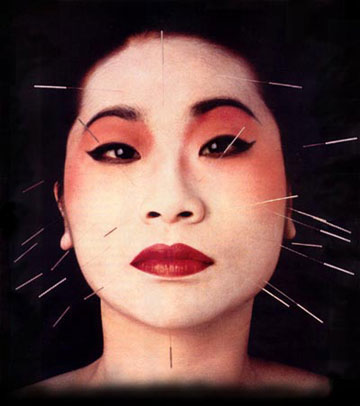 I have officially been headache free for over 24 hours! "What/who is responsible for this miracle?" you ask. Oh, it is the greatest thing of all things. It is acupuncture.
Having gone a
nd spent a good deal of money on my ENT (who is wonderful and looks like
a

Knight Rider era David Hasselhoff

), and being told that it was not my sinuses, yet again, (though I know it is), I decided to leave behind Western Medicine. My friend gave me the name

of

an acupuncturist

and the woman was very kind and sympathic, which is really

all I was looking for (after Dr. Hasselhoff kinda laughed in my face...still wonderful though). I went last Friday and was stuck with about 20 pins from head to toe, a very strange experience all together. Her full assessment: my headache is due to stagnation of my qi and perfectly follows the lines of the gallbladder channel (but having nothing to do with the actual gallbladder). It sounds a little mumbo-jumbo-y, but let me just say, it works. Friday's treatment didn't last so long and I had a bad headache weekend, but I went again on Wednesday morning and am freed. And as a side-effect of the treatment, I got to be high pretty much all day yesterday. It was great fun, if not a little distracting.